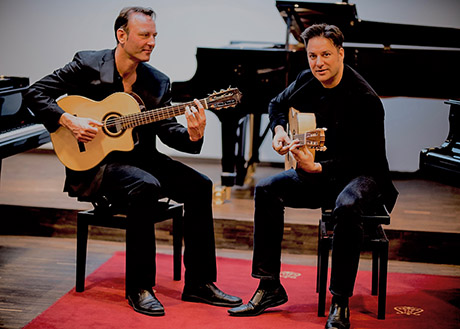 ANDRÉ KRENGEL & ROLAND KRAUSE
he Krengel & Krause guitar duo combines a rousing mixture of different musical genres - from the worlds of jazz, swing, Flamenco, blues, pop & funk and Latin America their compositions blend into a harmonious whole. They perform original compositions and surprising adaptations of many well-known pieces with a boisterous energy and passion.

At the same time howevcr these virtuosi leave a great deal of room for spontaneous interaction and improvisation. Each piece in their repertoire tells its own story or has its own little anecdote, tracing the paths and world-wide adventures of these two highly musical travel enthusiasts.

André and Roland met first in 1997 when their travels together took them through Europe and the USA performing in festivals, jazz clubs, art centres and galleries. In 1999 they each went their separate ways from America.

After 'miscellaneous' touring in the USA André returned to Europe, first to Barcelona and then home to Germany where he rapidly became one of the most sought after guitarists.

André's touring takes him around the world - in 2015/2016 he played almost 100 concerts in the US, Canada, UK, Poland, Germany, Italy and Austria. He received cultural awards and worked with world-class artists such as guitarist/bassist Carles Benavent, flautist Domingo Patricio, flamenco guitarist Rafael Cortes and Rod Stewart ... to name but a few.

In 2016, André toured England, Scotland, Moldova and Bulgaria in the Lulo Reinhardt and André Krengel Quartet.

Meanwhile, Roland - after leaving Florida - went to sunny California, then on to Central America, Mexico, the Caribbean, Spain and Asia appearing in clubs, luxury hotels and resorts with musicians like Ber Ortoli (Les Negresses Vertes), various Mexican mariachi bands and gypsy swing guitarists such as the Frenchman Jean Marc Sum.

Related Video